Teaching English in Vietnam
Teaching English in Vietnam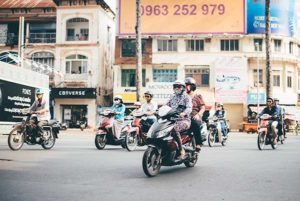 In 1997, the United States normalized its relationship with Vietnam. By that time, the Vietnamese government had chosen British English as its standard form of English, and many British language companies, such as ILA and Apollo Education and Training, became established. There are also US and Australian-based teaching companies as well, especially in southern Vietnam. There are many opportunities for teaching English in Vietnam for instructors from the US, UK, Canada, Australia, Canada, Ireland and South Africa.
One of the most unique things about Vietnam is its exchange rate. When I lived there (2010-2013), the rate was about 20,000 Vietnamese Dong to 1 US dollar. That's why you'll see a lot of numbers with a lot of zeros in them. You might buy something for 50,000 Dong in a convenience store, or purchase lunch for 100,000 or 200,000 Dong.
For this reason, when you read a job announcement or job description for a job in Vietnam, the salary might be stated in terms of US dollars. You will nonetheless be paid in Vietnamese Dong. If employers do this, they are not being dishonest. They are just saving ink!
There are three main areas or regions in Vietnam. The capitol, Hanoi, and port-city Haiphong are in the north. Danang is on the central cost. Saigon, also known as Ho Chi Minh City, is in the south. Regardless of which part of Vietnam you go to, English is rare among older people, shopkeepers and taxi drivers; it is very good and very useful to learn a little Vietnamese.
Watch a video of my life in Vietnam.
Saigon
Ho Chi Minh City is the official name of Saigon. Locals often continue to refer to it as Saigon, and it is not a crime to do so. At airports, railway stations, and other official venues, it is referred to as Ho Chi Minh City (HCMC) or, in Vietnamese, as Thanh Pho Ho Chi Minh (TPHCM).
Saigon is in the wealthiest city in Vietnam. It is also the most cosmopolitan, since business people from throughout Southeast Asia and the world come there to do business. Saigon is also very spread out, and organized into different districts (District 5 or District 6, for example). For historical reasons, Saigon is the city where you're most likely to find older people who are fluent in English. Saigon also has the most English learning centers of any city in Vietnam.
Saigon and other southern cities are in the tropical part of Vietnam. High temperatures and high humidity are common, regardless of the time of year. The main difference between the different times of year is the amount of rainfall.
It is more difficult to find a teaching position in Saigon than in other cities in Vietnam.
Hanoi
Hanoi is the capital of Vietnam, and the second wealthiest city. Unlike Saigon, Hanoi has distinct seasons, although not as distinct as most parts of Australia, Britain or North America. Being well north of the equator, Hanoi has a subtropical climate. Summers last from about May to September, with October to Early January being cooler and less humid, and more rain starting around February and March.
Haiphong
Haiphong is the primary port city of northern Vietnam. Like Hanoi, summers are much hotter than the autumn, winter, and spring. Autumns are warm and pleasant, with less rainfall.
The vast majority of foreign businesses in Haiphong are from China, South Korea and Taiwan. Many Japanese companies also have operations in Haiphong, with Nomura Industrial Park being located just outside the city.
Haiphong is more industrial than Saigon or Hanoi. Due to its unique location, many Chinese as well as Vietnamese companies haul their freight through its port. The most important industries are shipping and logistics, and many of the local young men aspire and study to be sailors.
Not many people go swimming on the beach in Haiphong. Instead, they go to Cat Ba Island, which is a nice weekend trip from Haiphong.
Danang
Danang is on the central coast of Vietnam. It has many tourist destinations, including the place called "China Beach", made famous by a US television program. Danang is smaller than Saigon, Hanoi or Haiphong. Many international English teachers would like to live there. However, there are fewer teaching opportunities compared to other major Vietnamese cities.