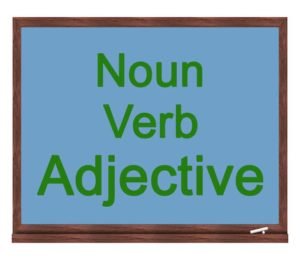 Parts of Speech
English has nouns, verbs, adjectives and many other parts of speech.
Read the following examples:
Nouns
Nouns come after adjectives, and after a, an or the.
Sentences
The pen is on the table.
I have a good idea.
I will go there now while I still have a chance.
Verbs
Verbs come after subjects.

Sentences
I live in Seattle. Where do you live?
Adjectives
Adjectives come before nouns or after is, am, are, was, or were.

Sentences
I was late because the traffic was heavy.
I have a good idea.
Adverbs of manner

Adverbs of manner come after verbs.

Sentences
I cannot understand him when he speaks quickly.
Articles
Articles come before nouns.

Sentences
I went to look at a car. I decided to buy the car.
Prepositions
Prepositions come before nouns.

Examples
of, from, in, at, to, on,
and others
Sentences
I am from the United States.
The class meets at 2:00 p.m.

Conjunctions
These four conjunctions usually come in between other words.

Examples
and, but, or, so,
and many others

Sentences
My friend and I went to the store.
We went to the store and bought some apples.
We bought some apples and bananas.
Word Endings
These endings are for longer words. For short words, they are not important.
Common Verb Endings
-ate
-en
-ify
Examples
graduate, evaluate
strengthen, flatten
beautify, identify
Common Adjective Endings
-able
-ible
-al
-ive
-ous
Examples
comfortable, available
possible, incredible
professional, beneficial
creative, competitive
enormous, humorous
Common endings for a Person who does something

-er
-or
-ist
-ian
Examples
writer, teacher
doctor, actor
artist, scientist
musician, comedian
Common Endings for Other Nouns

-ence
-ity
-sion
-tion
Examples
confidence, difference
ability, possibility
conclusion, discussion
distraction,operation
Note:  For all short words, such as late, live, pen, men, give, table, list and fence, these rules are not important.
They are only important for longer words (and there are exceptions to the rules). To test yourself on this information, take the following quiz: